Fonts
Embroidery Monogramming for Text Only Designs or Names
We can incorporate text only designs or names onto any garment on our website. Prices of items include the cost of embroidered text but we can also integrate your logo if you'd prefer. We can use any of the Standard Fonts featured here, and the 17 thread colours available here to make a Text Only Design for you. Text commonly chosen by customers to have embroidered includes:
Your Company Name
A Web Address
Email Address
Telephone Details
Individual Name
Staff Departments
The Current Year
A Team Name or Number
Accreditations and Recent Awards
Text Embroidery Prices
There is no set up cost for embroidering custom text if we are able to use one of these 30 Standard Fonts. You also have a choice of 17 different colour threads.
The Chest Embroidery is Free when you buy the Clothing or garment from us. Prices are as follows:
A Large Back Text Embroidery from £3.95ea
Individual Names are £2.95ea
If you have another position in mind, please contact us so we can provide more information
Fonts Available for Text Embroidery
You can choose from 30 different text styles below. We can embroider these fonts onto clothing bought from ourselves, FREE of charge, onto what is considered the standard embroidery position on your garment (contact us for more info). These fonts can be embroidered in 17 different colours to suit you or your clothing.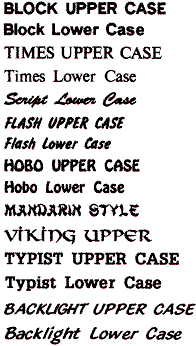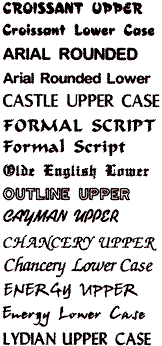 All other Designs and Logo's may be subject to a small set up charge, we can confirm any cost once we have seen your Design. You can send us your logo or design via our enquiry page.